YAY! Im so excited to have come across this link up (thanks jaz)! I was going to bring you my bucket list in a post yesterday, but due to the internet coming in and out! I decided to quit writing before I threw the damn router across the room!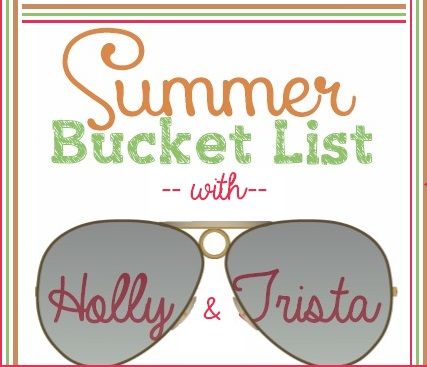 Every year I make a summer bucket list! Fun stuff that I want to do with the littles and or the hubby!
This year (thanks to the idea from Kera at
Nugget On a Budget
) Not only have I decided to share with you my bucket list on the blog! Im also going to make a page, on the sidebar of my homepage of my bucket list and update it as we complete the activities!
So who's ready for some Summer Time fun?!?! I know I am!
*Night time bowling
*Boating (lots and lots of bowling)
*See a drive in movie
*Enjoy a picnic
*Brewers Bus Trip
*Celebrate turning 25
Glow sticks inside balloons! Hello Backyard Party!
Accomplish 12 projects off pinterest (1 a week)
Brewers game with just the hubby
Bike ride around the lake
A day with NO media! Buy computers, phones and tv!
*A night full of board games
*Visit the library once a week
* Enjoy a trip to Six Flags
*Waterpark (and lots of them)
*Enjoy a day to the beach
*Make home made bird feeders!
*Say YES to everything for one day
*Enjoy chocolate shakes outside
*Have ice cream for dinner
*Make our own pizza, (50's night)
*Visit the bean in Chicago
*Spend the day at Shed Aquarium (also in Chicago)
*Wash our cars on our own
*Enjoy dinner on the patio
*Visit House on the Rocks
*Bake cookies for a friend
*Make cards and send them
To track our bucket list at home! I will be making card/labels for each activity and taping them to our ugly garage door!
Once the activity is complete, we pull the label off the door! Write down the date that we completed it, maybe write a fun story on the back of the card and store them in our family 2013 jar!
Im also going to keep a list in the car so that at any dull moment while we are out in about with free time we can have the list and find an activity!
So Who's READY for Summer?
What's on your bucket list?
Im already daydreaming or the warm weather, late nights, and memories to last a life time!